02
11

2017
— By Alistair Subba Row, Farebrother/CORFAC International, London
The United Kingdom's departure from the European Union — commonly known as Brexit — was expected to have adverse effects on London's office property market. These predictions initially proved accurate as London turnover and transaction volumes sank to a four-year low in the quarter following the referendum which passed in June 2016.  (Note: The UK is scheduled to leave the EU on March 29, 2019.  However, this exit date can be extended if all 28 EU members agree.)
Today, London's share prices have recovered, transaction volumes are up and large deals are making headlines.  Appetite for real estate as an asset class has grown significantly across all sectors and is proving to be a catch-all for global private investors, particularly those from Hong Kong, China and the Middle East.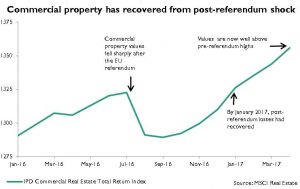 Little Loss, Mostly Gains  
More than 80% of investment in Central London in the first half of 2017 came from overseas investors, and Chinese investment in London commercial property has more than tripled since before the referendum.  Among the most notable deals were the purchase of 122 Leadenhall Street (the Cheesegrater) and 20 Fenchurch Street (the Walkie Talkie), the latter a UK property investment recorded at £1.3bn. Other significant London-wide investment deals by overseas investors have recorded yields around 4%.
Fears of a damaging "Brexodus" — companies leaving London following the Brexit vote — are unfounded. Many financial institutions have confirmed their commitment to London, including Deutsche Bank, which recently signed a lease for a new London headquarters. The technology and creative industry sectors have also become a driving force in the market. Facebook, Snapchat, Apple and Amazon have committed to significant office leases along with satellite telecom giant OneWeb, which plans to open a London base.
Office space demand also continues to rise in the co-working sector, fueled by the need for cost-efficient and flexible space.  The sector accounted for the largest share of space leased in Central London this year, illustrating a structural change in which the market is rapidly embracing new entrants to this sector.
London Still Calling
In summary, the London office market achieved nearly £9 billion of transactions in the first six months of 2017.  While Brexit and other political changes may have heightened occupational risk, London remains a premier destination for global capital investors and worldwide corporations.