03
02

2020
IL PUNTO Real Estate Advisor srl/CORFAC International in Milan, Italy, is a co-founder www.re-anima.com, Italy's first crowdfunding platform — under process of authorization — for real estate equity direct to project in line with the New Urban Agenda of UN Habitat. To learn more about this innovative financing vehicle, CORFAC interviewed Antonio Campagnoli, SIOR, CRE Principal at IL PUNTO.
CORFAC: How does RE-Anima work, and what is IL PUNTO's role?
ANTONIO: The way it works is that retail and qualified investors in Italy and internationally provide equity for real estate SDG (Sustainable Development Goal) compliance projects to be funded with financial notes, giving developers an alternative to standard bank funding. The crowdfunding platform creates an "owner investment model" whereby a developer can raise equity at financial terms that help to make it successful. Investors get venture capitallevel yields on investments that they choose, with a high degree of transparency into the project's progress.
IL PUNTO will provide oversees market and competitive analyses, property due diligence, documentation, inspections and brokerage services.
RE-Anima uses technology portals to be authorized by CONSOB, the public authority responsible for regulating the Italian financial markets. We access the U.S. and European markets through technology platform agreements and via the CORFAC International network.
CORFAC: What are the advantages of a crowdfunding platform?
ANTONIO: Italy's commercial real estate financial market is dominated by a traditional banking system to a far greater degree than the U.S. and many other European countries. However, in the new sharing economy, crowdfunding at times allows Italian developers to access capital more quickly, easily and at a lower overall cost than bank funding.

For investors, RE-Anima provides a way to invest in sustainable and socially responsible projects with a high degree of transparency into development processes. Some investors are members of the community who want to see sustainable development in their neighborhood, while others are socially responsible international investors.
RE-Anima projects tend to be redevelopment or preservation projects that have strong community support. The estimated yields are competitive with other investment options.
CORFAC: Do you have an example of al RE-Anima transaction?
ANTONIO: The first project to funded by RE-Anima is a good example. Città del Vetro is a mixed-use project consisting of moderately priced apartments, commercial and public spaces at a cost of approximately 20 million euros. It was a rehabilitation and historic preservation of the former Savam Glassworks in Altare, a city in the Liguria region known for its glassmaking history and annual festival. Crowdfunding offered the best way to support economic development and improve quality of life while preserving the character of the neighborhood.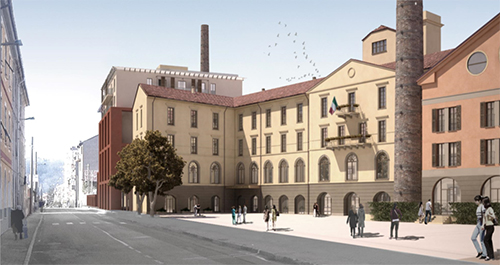 CORFAC: What should CORFAC brokers take away from your experience?
ANTONIO: First, if you know of qualified investors who are interested in socially responsible international investment, please direct them to www.re-anima.com.
In addition, I'd suggest that CORFAC members might want to consider partnering with crowdfunding platforms. RE-Anima is generating a lot of interest in Italy as one of the few alternatives to bank financing, but I also see that crowdfunding is one of the hottest trends in real estate investing. With the rise of the sharing economy and an increased focus on socially responsible investment, crowdfunding gives developers and their advisors a new way to fund renovations and sustainable development projects.