Bradford Team/CORFAC International Secures Five Leases in 30 Days for Renovated Arlington Downs Tower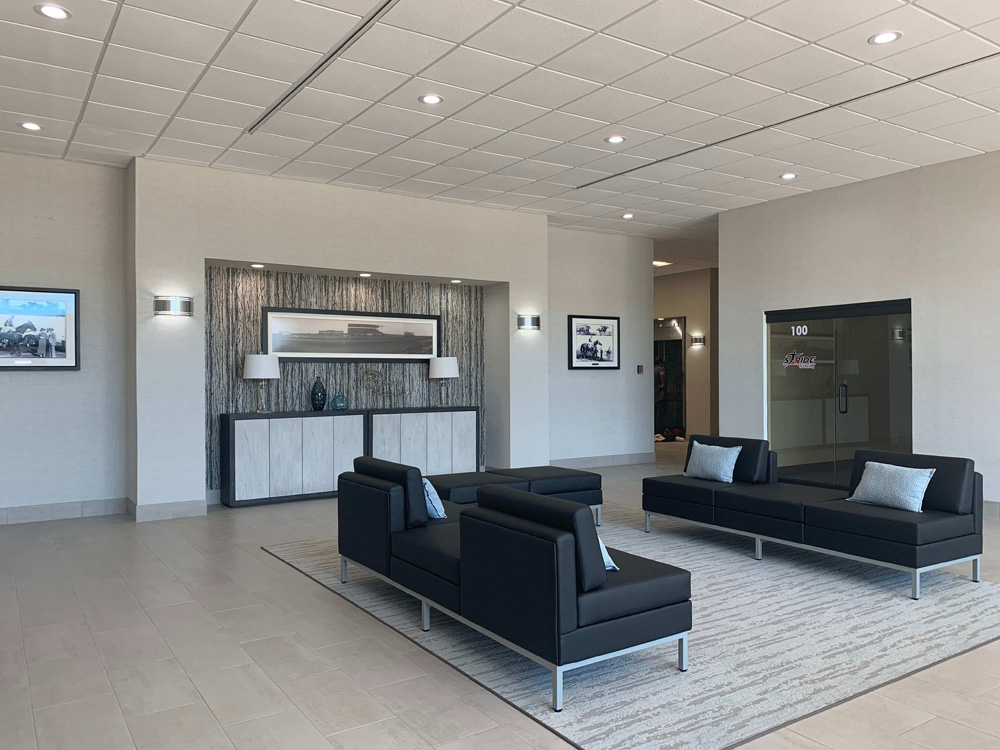 With a recently renovated lobby as incentive, Bradford Commercial Real Estate Services/CORFAC International, has wrapped up a leasing flurry in Arlington Downs Tower, signing one newcomer, two expansions and three renewals in a 30-day spin.
The fast-paced deal making has locked down 17,537 sf for the long term in the 87,411-sf office tower, located at 2225 E. Randol Mill Rd. in the Arlington Entertainment District. Bradford's Richmond Collinsworth, first vice president, and Erik Blais, vice president, lease the project for the local landlord, Arlington Downs Tower.
New to the project is Creator Age Inc., a technology development company that's set up shop in 2,958 sf. Sheryl Pickens of PickensRidnour LP represented the tenant, formerly Spring St. Productions.
Through direct negotiations, the Bradford team has signed renewals and expansions with PDMS Design Group Inc., which now occupies 9,765, and Stride Staffing, 2,370 sf. The tenants have expanded by 1,122 sf and 415 sf, respectively.
The Parks Group Inc. has renewed a 1,719-sf lease and Mechanical Contractors Association of Dallas Inc. has re-upped 725 sf.
"We've had a lot of interest since we've completed the lobby remodel," Collinsworth says. "Tenants spend a large part of their time at the office so it's critically important to be in a place that brings you joy."
The lobby sports a contemporary look with new lighting, flooring and wall coverings accented by neutral colors of black, gray and taupe. The upgrades also included modernizing the elevator cabs, a digital directory, tenants' lounge, a conference room and glass office doors on the first floor.
Blais credits the newly signed leases to the lobby remodel and a competitive rate with office projects in Arlington and surrounding markets. The six-story structure historically has been popular with companies and professionals seeking 2,500 sf or less.
"In the past two weeks, we've been getting calls from people who want smaller spaces and are ready to get back to the office," Blais says. "If you need 400 sf, we have it. If you need more, we have it."
Arlington Downs Tower presently has available suites ranging from 434 sf to 4,198 sf. The amenity package includes on-site management, Parks Pantry Micro Market, key-card access, three telecommunications providers and a 5/1,000 sf parking ratio. Because it's situated in the city's entertainment district, the mid-rise is surrounded by an abundance of restaurants, retail and hotels.
"First impressions are important for attracting and retaining employees," Blais says. "The lobby serves as the front yard and needs to make a statement."
Bradford Commercial Real Estate Services/CORFAC International is a full-service real estate company based in Dallas with an annual transactions volume exceeding five million square feet. The company manages and leases more than 20 million square feet, valued at $300 million, in North Texas for its strategic partners.