Brokers Benefit from Coworking Trend
By Alistair Subba Row, Farebrother/CORFAC International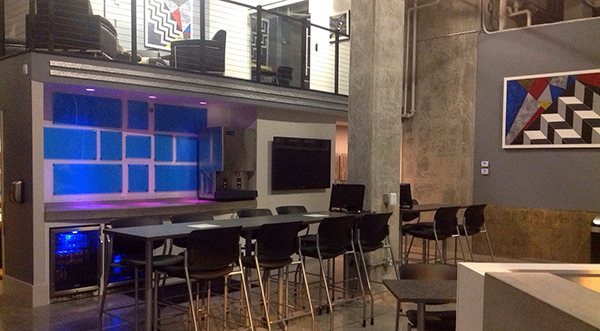 Collaborative offices, serviced office space, shared work spaces -- whatever you call it, the coworking trend is growing exponentially in response to the rise of the sharing economy. Coworking companies are driving net absorption in the office sector, and show little sign of slowing down. Some CRE brokers may view the rise of collaborative offices as a competitive threat, but in reality, coworking provides many opportunities for brokers to benefit while serving their clients' interests.
The rise of serviced office space is a global trend. At the recent CORFAC International Fall Summit in London, brokers from around the world discussed ways they're working productively with coworking companies and owners to deliver a better all-around worker experience while enhancing office space efficiency.
To understand how coworking affects the global office market, consider these facts:
WeWork, the world's largest coworking company with sites in 20 countries, became the largest single tenant in Central London at the beginning of 2018, and the same for New York City in the third quarter. It's expected that WeWork will lease more office space in Europe and North America during 2018 than the next 10 companies combined.
WeWork's share of the global collaborative space market is about 12 percent.
The number of people with coworking memberships doubled in 2017, and is expected to double again in 2018.
So the largest office tenant in the world represents only a small fraction of the coworking sector, which is growing by leaps and bounds. That pace likely isn't sustainable, and critics point out that WeWork has yet to turn a profit for investors, but the concept has been proven successful in most places it's been implemented. And so far, coworking is making the office market work better for everyone.
For landlords and leasing agents, coworking firms are more than welcome tenants. Not only do they lease space that might otherwise be vacant, but traditional tenants are more likely to be drawn to a building with built-in space flexibility. Owners are also adapting to the rise of shared space by providing on-site meeting rooms for tenants that want flexibility and by providing furnished space to fast-growing startups. Traditional lease terms are getting shorter as well, a trend which is attributed in part to the prevalence of serviced office space.
On the tenant rep side, coworking companies are the most active long-term tenants in the market right now. At Farebrother/CORFAC International in London, we have represented Landlords on more than 150,000 square feet in lettings to WeWork around the city, all of which have subsequently been sold with WeWork as anchor tenant for a low cap rate.
With the increase in take up of serviced offices in the United Kingdom by a wide variety of occupiers, many long-term UK investors have set up their own serviced offices offering. Previously they would lease space to WeWork, Regus, or other serviced office providers. Now companies such as British Land (Spaces), Land Sec (Landflex) and Legal & General have their own flexible workspace offerings competing against the others.
Tenant reps win when they bring clients to coworking companies as well. Like most coworking firms, WeWork pays brokers for client referrals leading to initial memberships, renewals of full-year contracts, and expansion desks in the first year of membership. Also, as much as 40 percent of coworking members are believed to be incremental tenants—if not for shared space options, they probably wouldn't lease space at all. So coworking companies aren't eating the brokers' lunch.
Nevertheless, some brokers are reluctant to suggest collaborative space as an option to their small clients. The commissions paid for coworking are generally lower (for far less work) than a fully negotiated, multi-year office lease. Moreover, WeWork this year launched WeWork Space Services, which provides real estate advice to small-business members and non-members. The company says its new service isn't out to replace the role of brokers, but brokers are concerned that, in time, there could be friction.
However, most brokers recognize the opportunity to consider coworking options when serving clients. For larger office tenants, that often means finding buildings that offer the right mix of traditional and shared space, so the client minimizes occupancy cost, maintains flexibility to grow, and taps into the power of the gig economy by connecting with onsite coworking members.
Farebrother and three other London service firms have formed a venture called Flexible Office Space to help startup companies navigate their office needs as they grow. In our experience at Farebrother, it's common for a two-person startup to grow to more than 40 people in the first year, outgrowing its coworking roots in the process.
As companies grow, they still want some of their employees to have access to the energy and social engagement of coworking spaces. In addition, collaborative space is a good option for large companies when they need extra space for short-term projects, or when their traditional space reaches peak capacity. The networking opportunities provided by collaborative space can be a great way to recruit new talent, as well.
In summary, coworking options need to be in the toolbox for any commercial broker focused on serving the needs of his or her clients—be they big or small. Despite the impact that coworking is making on the market, collaborative space still comprises less than 2 percent of office space in the U.S. and in most other countries. Coworking isn't on the verge of overwhelming traditional office leasing, but it is growing. It's an increasingly critical piece in the puzzle for brokers who are dedicated to guiding clients to their most effective, and cost-effective, occupancy strategy.
This article originally appeared in GlobeSt.