COMMERCIAL PROPERTIES INC./CORFAC International IS PLEASED TO ANNOUNCE THE 16.74 ACRE SALE OF THE MILLER/CURRY 202 REDEVELOPMENT SITE IN TEMPE, ARIZONA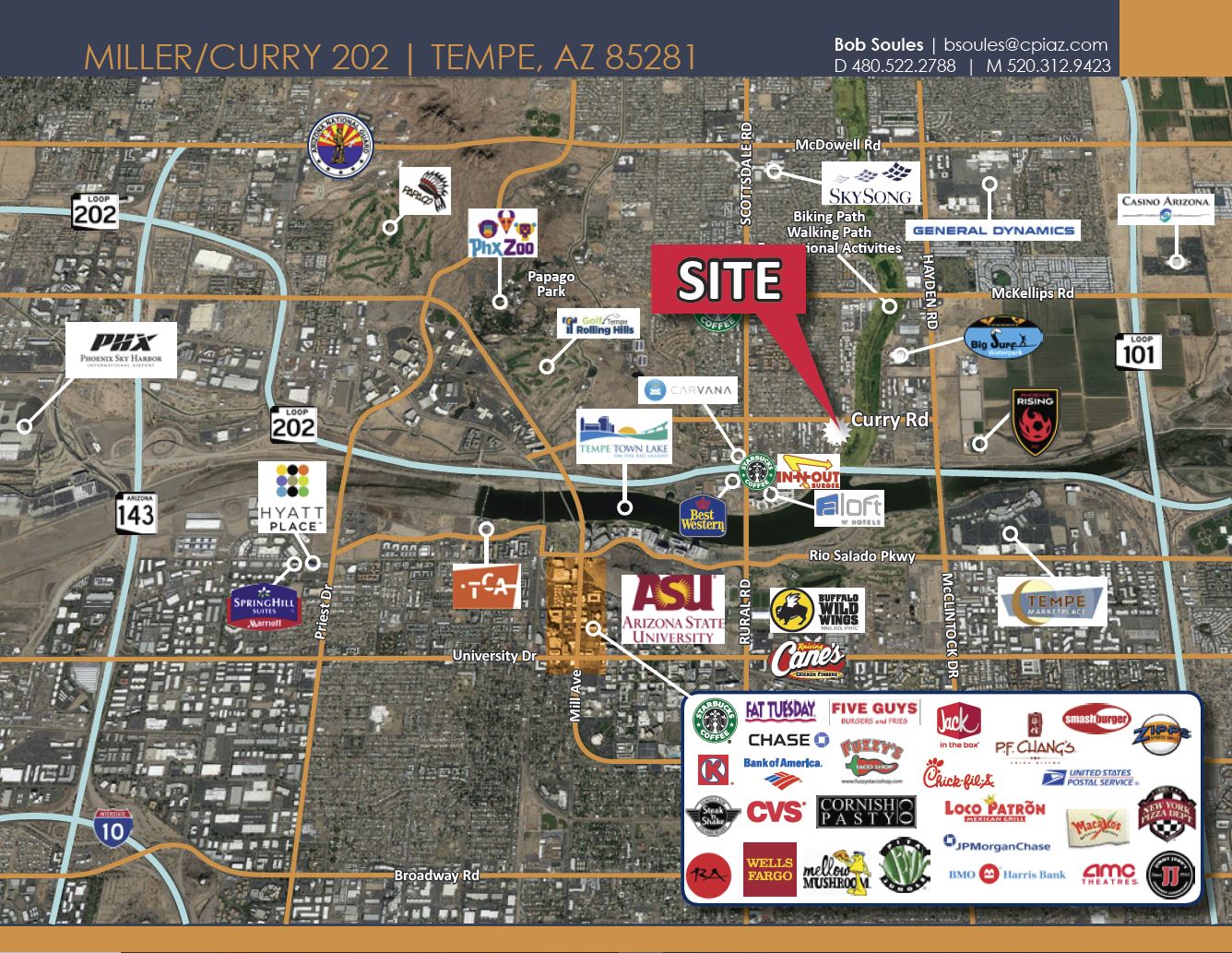 Commercial Properties, Inc./CORFAC International, Arizona's largest locally owned commercial real estate brokerage, is pleased to announce the sale of a ±729,020 square foot opportunity zoned land assemblage slated for mixed-use redevelopment for $20 million.
In total, nine separately entitled land parcels within the 80-acre Maricopa County Island positioned just north of Tempe Town Lake and bordering the 202 Red Mountain Freeway make up this impressive site. This property had seven separate legal ownership entities comprising 16.74 acres. The resulting redevelopment of the former low-density, light industrial buildings and land, is named Banyan North Tempe, which Banyan Residential of Santa Monica and Milhaus Development of Indianapolis received final approval on from the City of Tempe on March 11, 2021.
Robert (Bob) Soules, Vice-President – Investment Sales for Commercial Properties, Inc., a long-time land assemblage veteran for the greater Phoenix area (and others involved), represented the sellers in putting together the now 16.74-acre development site at the southwest corner of Miller and Curry Roads in Tempe, AZ.
Soules stated, "This all started when I contacted Robert Stonoff (now deceased), and his family members, who owned several light-industrial rental properties. Stonoff also had a classic cars and parts business within the property. At the time, Stonoff was the ad hoc president of a loosely knit group of successful County Island businessmen and women all operating diverse light-industrial, retail, and service industry businesses. These owners desired to maintain their legal industrial zoning status within the County Island bounded by Scottsdale Road, Miller Road, Curry Road, and Gilbert Drive. Collectively, the owners were opposed to any annexation efforts to change the County status to City status. However, as further discussions and considerations evolved, it became evident that a process could be followed that would allow the sale of the properties and only result in a change in zoning and building standards, after a close of escrow on each of the sales."
What started as resistance to annexation into the City of Tempe with its additional municipal services and related property improvement requirements, morphed into a collaborative effort to obtain a win-win scenario. This final move toward the finish line was advanced by a meeting held a couple of years ago when CPI's Director of Property Management and Soules met with the Executive Director, Donna Kennedy from the City of Tempe's Economic Development Department, to discuss this potential redevelopment project. Donna pledged her support and encouraged this excellent opportunity.
The sellers had a few serious offers before, and if you ask Bob if it was a difficult journey to keep this assemblage from disintegrating over the years, he will tell you, "There were a few gnarly challenges to keep this assemblage intact, but I attribute the successes of this project to the owners' intelligence, tenacity and willingness to stay on the path to find the best development team for the project. We had to weather a couple of market slowdowns. Finally, during this current strong market cycle, it made sense for the new owner-developer to pursue the project," said Bob.
The buyer/developer, Ben Brosseau (of Banyan Residential), along with partner Max Friedman, purchased the nine (9) parcel assemblage for $20,004,368 / $27.44 per square foot. According to Soules, "this has been a reversal of the adage, divide, and conquer, and is what he calls combine, assemble, and succeed."
Truly a team effort, Bob would like to thank the Marketing Team of Commercial Properties, Inc./CORFAC International, and Attorney Charles Huellmantel & Affiliates law firm who coordinated the re-zoning, and land use approval and annexation applications throughout the complicated negotiations and strategies with the City of Tempe. A big "shout-out" also goes to Marni Zarin of Fidelity National Title-NCS in Houston, Texas who handled this difficult, multi-faceted real estate closing involving multiple sellers, developer partnerships, and financing documents, along with the forward-thinking, support, and approval by the Tempe Mayor and City Council members involved in this assemblage success story.

Robert (Bob) Soules, Vice-President – Investment Sales for Commercial Properties, Inc., is currently working on a new assemblage project in the area. For additional information, please contact Bob Soules at bsoules@cpiaz.com and 480.522.2788.
About Commercial Properties Inc.
Established in 1981, Commercial Properties Inc. (CPI) is a full-service brokerage and property management firm for all product types of commercial real estate. Headquartered in Tempe, the company has more than 65 brokers and is operating throughout the Phoenix metropolitan area. Currently, CPI's listings include over 21.6 million square feet for sale/lease with more than 197 projects and associations under management, totaling over 13.2 million square feet.