Congratulations to CORFAC's 2019 Standards of Excellence Winners
CORFAC International is pleased to announce the winners of the 2019 Standards of Excellence Awards, which recognize individuals who exemplify excellence, integrity, dedication and participation in the CORFAC network.
Award winners were honored by CORFAC's 2019 President Sim Doughtie, CCIM, MCR, SLCR, SIOR, of King Industrial/CORFAC International in Atlanta, GA, (shown center in photo) during the organization's 2019 Fall Summit, held September 18-21 at The Logan Hotel in Philadelphia, PA. Award winner descriptions follow.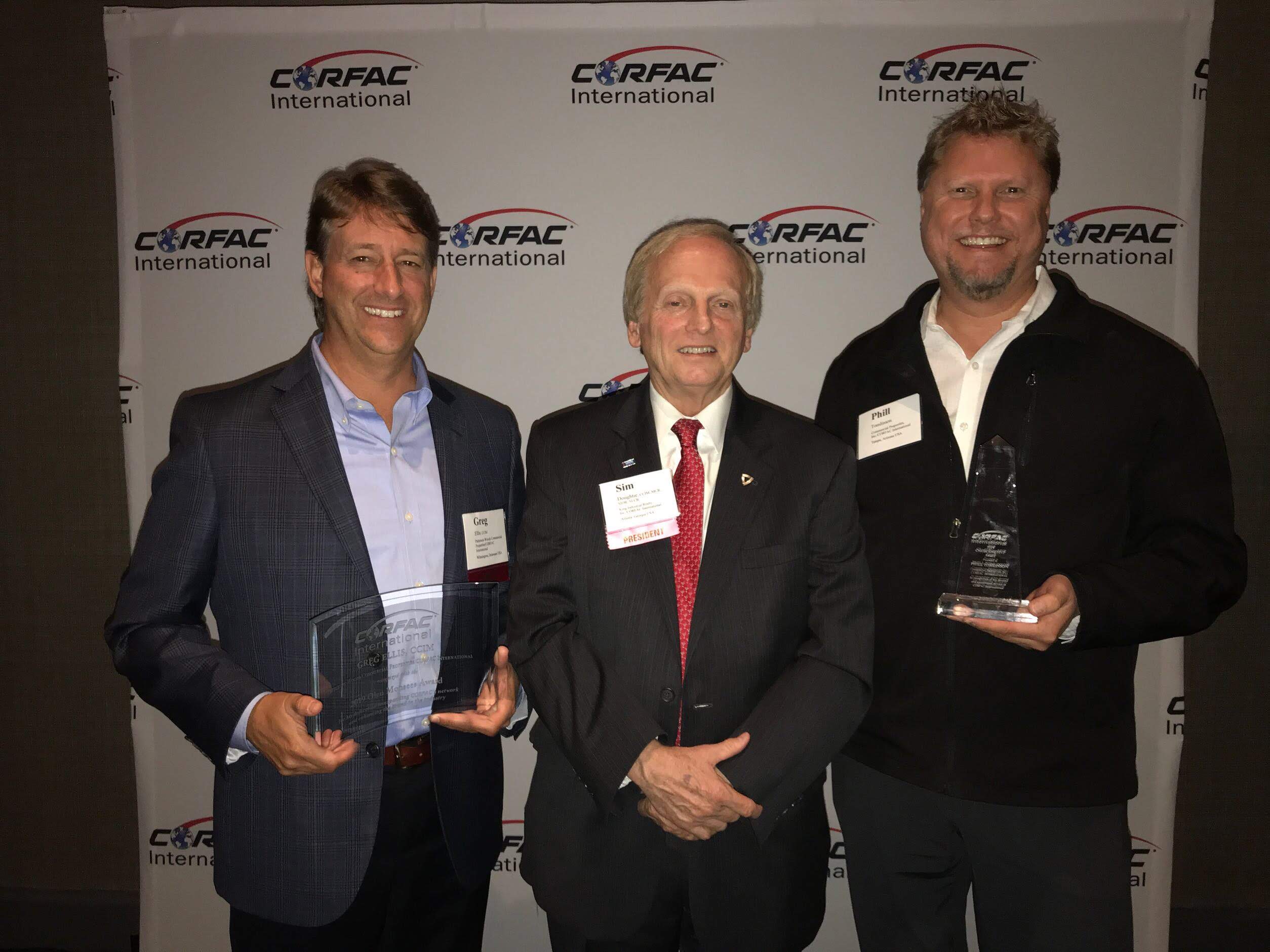 Charlie King MVP Award
Phill Tomlinson of Commercial Properties Inc./CORFAC International in Scottsdale, AZ, (right in photo) received the Charlie King MVP Award, which is bestowed annually to the member considered by CORFAC's President to be the "most valuable player" over the past 12 months. The award was created in honor of CORFAC co-founder Charlie King Jr., for his devoted and exceptional service to the organization.
Tomlinson's efforts to educate the CORFAC membership and expand the organization's technology tools is commendable. Tomlinson is currently serving on CORFAC's Executive Committee, as Chairman of the Technology Committee and as a member of CORFAC's App Development Task Force.
Olen Monsees Award
Greg Ellis, CCIM, of Patterson-Woods Commercial Properties/CORFAC International in Wilmington, DE, (left in photo) is the 2019 Olen Monsees Award winner. Ellis has been a key player in developing the CORFAC conferences, serving as the Chairman of the Conference Committee. His leadership and direction in choosing outstanding cities, hotels and events has been invaluable to the organization.
The Olen Monsees Award, which recognizes members who have provided exceptional service to the organization, is named in honor of Olen Monsees, a former President of Karbank Real Estate Company in Kansas City, Missouri. Olen was known for his integrity and ability to create win-win solutions, often going above and beyond the call of duty without being asked.
Thomas B. Hayes, Jr. Award
The 2019 Thomas B. Hayes, Jr. Award winner is Hayim Mizrachi, CCIM, of MDL Group/CORFAC International in Las Vegas, NV (not pictured). The award honors the late Tom Hayes, a Principal of Integrated Corporate Property Services/CORFAC International, known for his innovative use of new technologies to continually improve client service. Recipients of this award have distinguished themselves by sharing innovative and creative ideas relevant to commercial real estate brokerage.
Mizrachi has taken a creative and innovative approach to managing CORFAC's Next Generation Committee and collaborated to create the first-ever CORFAC West Regional Office Brokers Conference, which will be held in October 2019 in Las Vegas.
Steven H. Podolsky International Member of the Year Award
Miguel Cavazos, CCIM, SIOR, of Citius Capital/CORFAC International in Monterrey, Mexico (not pictured) is the 2019 recipient of the Steven H. Podolsky International Member of the Year Award. The award recognizes an outstanding international member (outside of the U.S.) who goes above and beyond the call of duty in the service of CORFAC members and their clients. The award is named in honor of Steven H. Podolsky, SIOR, a founding member of CORFAC and chairman of the International Committee during a crucial re-building stage.
Cavazos served as the 2018 International Committee chairman and has been a key player in expanding CORFAC's member presence. The organization looks forward to the 2020 Spring Conference in his home country of Mexico.
Congratulations to all of CORFAC's 2019 Award winners.