CORFAC Expands Brand at ICSC's 2018 RECon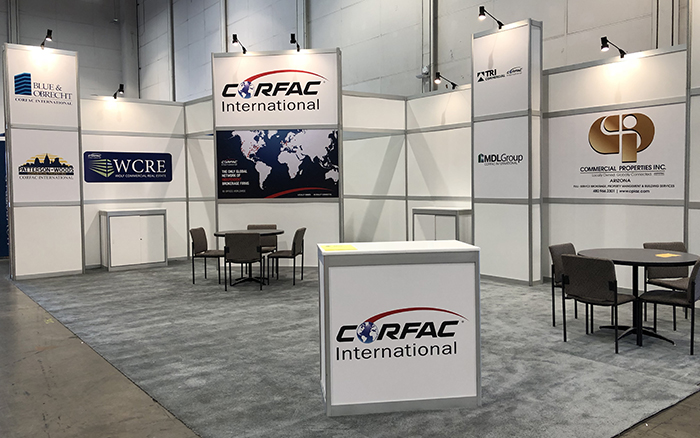 CORFAC International's momentum in the retail sector continues to grow in large part due to the organization's renewed presence at the world's largest retail trade show. Back for the second straight year at the International Council of Shopping Centers (ICSC) RECon in Las Vegas, six CORFAC firms and dozens of individual members took advantage of this unbeatable opportunity to network with prospects and clients in the CORFAC booth.
Participating firms included Blue & Obrecht/CORFAC International in Baltimore, MD; Commercial Properties Inc./CORFAC International in Tempe, AZ; MDL Group/CORFAC International in Las Vegas, NV; Patterson-Woods Commercial Properties/CORFAC International in Wilmington, DE; TRI Commercial/CORFAC International in San Francisco, CA and Wolf Commercial Real Estate/CORFAC International in Philadelphia, PA.
"Being at ICSC showcases CORFAC's commitment to supporting our retail members and presented us with outstanding opportunities," said 2018 President Andy Jaffe, Commercial Properties Inc./CORFAC International. "Having a booth at the show provides our members with a platform to meet with prospective clients. I am very pleased we took this opportunity to be part of the industry's biggest retail event."

CORFAC brokers who attended collectively held more than 50 meetings with clients and investors in the booth. View the ICSC RECon 2018 photo gallery for a look at CORFAC members in action.

In addition to meetings in the booth and activities in ICSC's Central Hall, CORFAC members and their guests gathered for a networking dinner prior to the show. "What a great opportunity to get together with other members at CORFAC's ICSC dinner and at the booth during the show," said Hayim Mizrachi, CCIM, of MDL Group/CORFAC International.
The event spurred several brand-building PR and social media opportunities as well. Three of CORFAC's retail experts participated in a GlobeSt.com video interview on location, which was shared via GlobeSt.'s National Retail channel last week. Interviewees included Tony Banks of Wolf Commercial Real Estate/CORFAC International; Christina Snyder of TRI Commercial/CORFAC International; and Richie Blue of Blue & Obrecht/CORFAC International. The three shared insights on national retail trends, particularly the evolution of national grocery retailers. "The morale of attendees at ICSC was great," said Christina Snyder. "There appeared to be more tenants at the show than in the past. The conference and booth were a success." Watch the GlobeSt.com retail trends interview.

With more than 35,000 retail real estate professionals in attendance, RECon is the industry's largest annual trade event. "For CORFAC to have a presence at ICSC is invaluable," said Joe Latina of Patterson-Woods Commercial/CORFAC International in Wilmington, DE. "Being at RECon solidifies CORFAC's presence as a player in the retail sector and creates greater brand awareness for the entire organization."
Other CORFAC attendees concur. "CORFAC's commitment to have a booth presence at RECon demonstrates the strength and power of the global network to the rest of the retail world," said Trent Rustan of Commercial Properties Inc./CORFAC International in Tempe, AZ. "The booth is an invaluable resource for my business and gives me and my member colleagues the physical presence necessary to meet with decision-makers from the top shopping center companies and expanding retailers from around the country. It is definitely a significant part of the marketing strategy for my clients and the allure of being a CORFAC member company."
Thanks to all who made this year's experience a success. To learn more about participating in RECon 2019, contact Executive Director Jonathan Salk at jonathan@corfac.com.