CORFAC International Announces 2018 Award Winners
CORFAC International is pleased to announce the winners of its annual awards recognizing individuals who exemplify excellence, integrity, dedication and participation in the CORFAC network. Award winners were honored by CORFAC's 2018 President Andy Jaffe of Commercial Properties Inc./CORFAC International in Tempe, AZ, (shown center in photo) during the organization's 2018 Fall Summit, held September 23-26 at The Waldorf Hilton in London, England. Fall Summit attendees enjoyed an awards luncheon and an afternoon cruise on the River Thames on Tuesday, September 25. Award winner descriptions follow.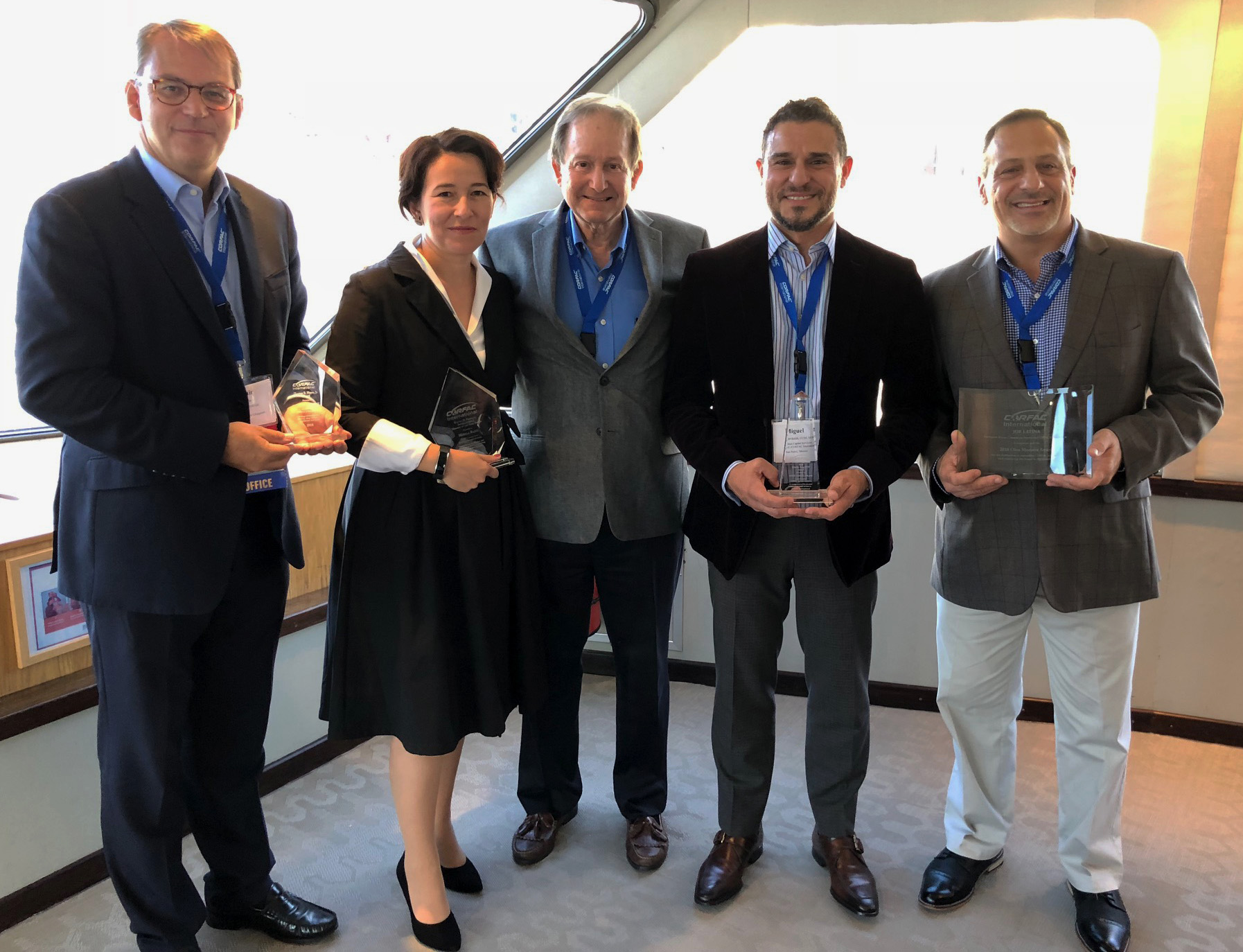 Charlie King MVP Award
Miguel Cavazos, CCIM, SIOR, Chief Managing Partner & Founder of Citius Capital/CORFAC International, Monterrey, N.L., Mexico, (second from right in photo) received the Charlie King MVP Award, which is bestowed annually to the member considered CORFAC's "most valuable player" over the past 12 months. The award was created in honor of CORFAC co-founder Charlie King, Jr., for his devoted and exceptional service to the organization.
Mr. Cavazos has served on CORFAC's Board of Directors and as its International Committee Chairman in 2018. Since joining the organization in 2014, Cavazos has been instrumental in identifying new global markets and prospective members for the CORFAC network. In his role on CORFAC's International Committee, Cavazos has facilitated business development opportunities during the organization's summer international affiliate meetings in Europe. As one of the largest independent commercial real estate firms in Mexico, Citius Capital maintains offices in six cities throughout the country.
Olen Monsees Award
Joe Latina, a Principal at Patterson-Woods Commercial Properties/CORFAC International, in Wilmington, Delaware, (shown far right in photo) received the Olen Monsees Award, which recognizes members who have provided exceptional service to the organization. The award is named in honor of Olen Monsees, a former President of Karbank Real Estate Company in Kansas City, Missouri, who was known for his integrity and ability to create win-win solutions.
Latina was elected Secretary of CORFAC International in 2017 and currently serves as 2018 chairman of the Affiliation Development Committee. In that role, Latina has been a key player in identifying prospective members, helping to grow the network's domestic footprint. He has also spearheaded CORFAC's presence at the International Council of Shopping Centers RECon tradeshow, the retail industry's largest annual deal-making event. Latina is one of Wilmington's top-performing brokers, specializing in the restaurant sector.
Thomas B. Hayes, Jr. Award
The Thomas B. Hayes, Jr. award is shared by two principals of Farebrother/CORFAC International in London: Alistair Subba Row, Senior Partner, Occupier Services (shown above far left in photo); and Charlie Thompson, SIOR, Partner and Head of Occupier Services (not pictured). The award honors the late Tom Hayes, a Principal of Integrated Corporate Property Services/CORFAC International, known for his innovative use of new technologies to continually improve client service. Recipients of this award have distinguished themselves by sharing innovative and creative ideas relevant to commercial real estate brokerage.
Subba Row and Thompson were instrumental in organizing and hosting the 2018 Fall Summit, CORFAC International's first worldwide event held outside of North America. Their efforts to provide top-level speakers, special events and hospitality for the Fall Summit are to be commended. Subba Row has served in a variety of committee roles for CORFAC and is a current member of the 2018 Executive Committee. He was also the recipient of the first-ever Steven H. Podolsky International Member of the Year Award in 2016. Thompson is the 2018 Vice Chair of the International Committee and has served on the Communications Committee and Website Redesign Task Force. Subba Row and Thompson have been champions in growing CORFAC's international reach in recent years.
Steven H. Podolsky International Member of the Year Award
Mirela Raicu, Founding Partner of ESOP Consulting/CORFAC International in Bucharest, Romania, (shown second from left in photo) received the Steven H. Podolsky International Member of the Year Award, which recognizes an outstanding international member (outside of the U.S.) who goes above and beyond the call of duty in the service of CORFAC members and their clients. This award is named in honor of Steven H. Podolsky, SIOR, of Podolsky Circle/CORFAC International in Des Plaines, Illinois, a founding member of CORFAC and chairman of the International Committee during a crucial re-building stage.
Ms. Raicu organized and hosted the CORFAC Summer Affiliate meeting in Bucharest in June 2018, which was attended by affiliate leaders from across Europe, Mexico and the United States. Additionally, Raicu currently serves on the CORFAC International Committee and has been a key player in expanding CORFAC's member presence in Europe.
Congratulations to all of CORFAC's 2018 Award winners.