CORFAC Recognizes 2017 Standards of Excellence Winners
CORFAC International 2017 President Ray Lyons, CCIM, MRICS, SIOR, is pleased to announce the organization's annual Standards of Excellence Award winners, which were recognized during the organization's Fall Summit in Denver, Colorado, September 13-16. The awards recognize members for their dedication and commitment to the CORFAC International affiliate network as well as member firms that demonstrate excellence. A listing of winners follows.
Charlie King MVP Award
John Homsher, CCIM, of Podolsky Circle/CORFAC International in Des Plaines, IL, received the Charlie King MVP Award in recognition of his devoted and exceptional service to CORFAC International. John has not only been one of the most valuable players on President Ray Lyons' team during the current year, but he has made substantial contributions to the overall development of CORFAC over the years. Most recently John served as the 2016 President of CORFAC.
Olen Monsees Award
The Olen Monsees Award was created in memory of Olen, who was President of Karbank Real Estate Company in Kansas City, Missouri, and a CORFAC colleague since 1989. The 2017 recipient of the Olen Monsees Award is Adam Tarantur, CCIM, of Podolsky Circle/CORFAC International in Des Plaines, IL, for consistently exceeding expectations on any task put before him. Adam has been instrumental in growing CORFAC's Next Generation membership and creating opoprtunities for them to excel in the organization.
The award recognizes exceptional service to the organization in memory of Olen, who was an iconic figure in the Kansas City real estate brokerage community. He distinguished himself with his plain spoken wisdom, quiet dignity and low-key manner. His focus was always to get the job done properly without complaint.
Thomas B. Hayes, Jr. Award
The Thomas B. Hayes, Jr. Award was established in 2003 to honor the late Tom Hayes, a Principal of Integrated Corporate Property Services/CORFAC International. Tom was consistently on the cutting edge of monitoring and assessing new technology and keeping his CORFAC colleagues informed. In 2012, the award was expanded to include all creativity and innovation within CORFAC. Members who have shared innovative and creative ideas relevant to commercial real estate brokerage are nominated for this award.
This year CORFAC honored Steve Lane of Voit Real Estate Services/CORFAC International in Irvine, CA, with the Hayes Award. Steve introduced a new, interactive deal-making format at the Spring Conference in San Diego earlier this year to create relationship-building opportunities among members.
Steven H. Podolsky International Member of the Year Award
This award was created in 2016 in honor of Steven H. Podolsky, SIOR, of Podolsky Circle/CORFAC International, for his strategic implementation, commitment, dedication and outstanding service in growing the international affiliates of CORFAC. Steve chaired the International Committee during a crucial re-building stage and gave selflessly of his time. He was also a founding member of CORFAC International.
CORFAC's 2017 President Ray Lyons, CCIM, MRICS, SIOR, of Realty Advisors Ltd. Brokerage/CORFAC International in Toronto, Ontario, was honored as the recipient of the award, which recognizes an outstanding international member (outside of the U.S.) who goes above and beyond the call of duty without being asked while expanding the visibility, collaboration and reach of CORFAC globally. Lyons has served as International Committee chair for CORFAC International, in addition to serving as a top leader of the organization for the past four years. His tireless efforts to grow CORFAC around the globe are appreciated by all in the network.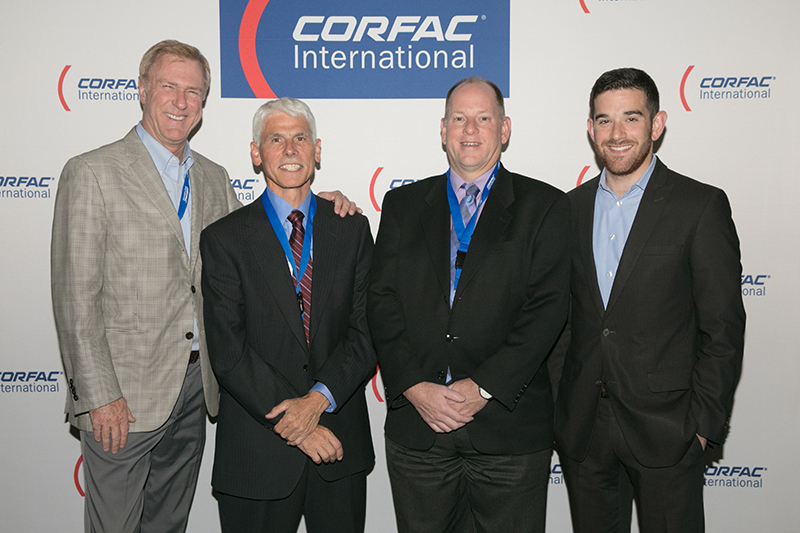 Fifth Annual Standards of Excellence Awards
The Standards of Excellence Awards recognize the CORFAC firms that perform to the highest CORFAC standards. Member firms completed an application to be considered for an award and were evaluated on the following criteria:
• Leadership
• Participation
• Referrals
• Industry Awards
• CORFAC Branding
• Reporting
Winners are recognized in three categories: Platinum, Gold, and Silver. The 2017 winning firms include:
Platinum Award Winners
• Podolsky Circle/CORFAC International
• Patterson Woods Commercial Properties/CORFAC International

Gold Award Winners
• TRI Commercial/CORFAC International
Silver Award Winners
• Weber Wood Medinger/CORFAC International
CORFAC congratulates all winners on their accomplishments.