Market Conditions Offer Investors Opportunities to Leverage Strength of the U.S. Dollar
By Iain Sayer, MRICS, MSCSI, HWBC/CORFAC International, Dublin
The U.S. dollar has recently surged against other currencies and is at a near 20-year high, up 19 percent since the beginning of the year.
This presents a golden opportunity for U.S.-based investors to acquire European real estate assets at relative values that are unlikely to be repeated.
Many major investors have been quick to take advantage. In Dublin, we have seen Blackstone acquire the Salesforce Tower for c€500m, a purchase that represents $477 million at today's rates against $585 million at the 52-week low – a staggering switch.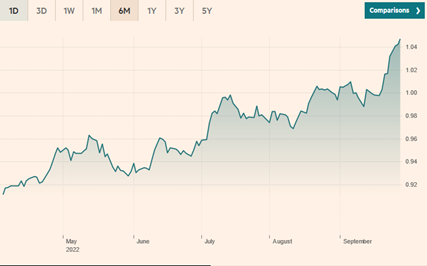 Source: Financial Times
It is not clear how long the strength of the dollar will prevail or if indeed it will get stronger. However, in the context of the long term over which real estate investors typically operate, it is not unreasonable to expect the dollar may have waned at exit, delivering a foreign-exchange gain on top of real estate returns.
Real estate traditionally provides a good hedge against inflation, and European markets are expected to see further inflationary pressure due to natural gas shortages arising out of the war in Ukraine.
Many investors are targeting assets with indexed-linked rents or assets in the residential sector that typically offer more regular marking of rents to market levels than commercial assets.
European markets offer a wealth of opportunity for new investors, particularly those unburdened by legacy deals that began during the previous low interest rate and low inflation environment. Many investors are finding opportunities to recapitalize or purchase assets with promoters in distress after their original business plan has failed in the new market environment.